Exclusive Excerpts and Book Cover From Ann Coulter's New Book – Part 2
by Christopher N. Malagisi
Yesterday, we revealed to you, our members, not-yet-released excerpts from what will mostly certainly be a controversial new book by Ann Coulter, titled Adios, America: The Left's Plan to Turn Our Country Into a Third World Hellhole.  If you thought yesterday's excerpts were good, wait till you read the second list today!
In all her colorful glory, Ann Coulter returns this June with the release of her upcoming book that's bound to make a few headlines!  She's back, and more fearless than ever!
In Adios, America she touches the third rail in American politics, attacking the immigration issue head-on and flying in the face of La Raza, the Democrats, a media determined to cover up immigrants' crimes, churches that get paid by the government for their "charity," and greedy Republican businessmen and campaign consultants—all of whom are profiting handsomely from mass immigration that's tearing the country apart.
Applying her trademark biting humor to the disaster that is U.S. immigration policy, Coulter proves that immigration is the most important issue facing America today.
The Conservative Book Club is proud to release a second round of excerpts from her new book that no one else has seen yet!  Ann blows the lid off the cover-up by government, both political parties, and media alike.
A sampling of the scintillating insights and revelations in ¡Adios, America! are below:
On the elites' sweet deal: "They get to have cheap nannies and lawn boys in the whitest towns in America—and feel morally superior!"
On the Democrats' motive: "Bring in new voters. Okay, fine. You won't vote for us, America? We tried this the easy way, but you give us no choice. We're going to overwhelm you with new voters from the Third World."
On our current immigration policy: "We turn away astrophysicists to make room for illiterate Afghan peasants who will drop out of high school to man coffee carts until deciding to engage in jihad against us."
On losing our country: "Americans love to mock the French for rolling over for Hitler, but at least they had Panzers rolling through Paris."
On securing the border: "When the bathtub is overflowing, the very first thing you do is TURN OFF THE WATER."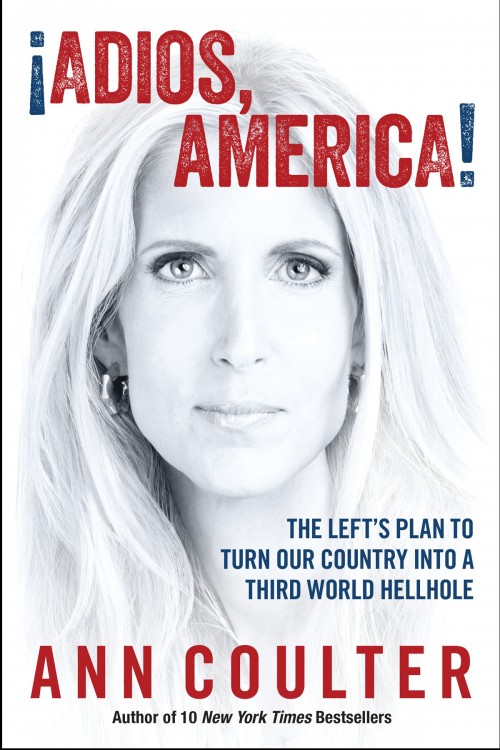 Comments
---

RICHARD

Don't you people know better than to publish stories without dateliens on them.
Often, the date that a story is written is just as important as the story itself.

June 2, 2016,8:00 am