Reporter Warns ISIS Has Launched "Guerilla War" in U.S.
by Christopher N. Malagisi
The White House has refused to confirm that the Islamic State is behind Sunday night's terrorist attack in Garland, Texas, despite ISIS's own claims. If confirmed, the attack would mark the first of the "guerilla war" attacks predicted earlier this year by terrorism expert Erick Stakelbeck, author of the book ISIS Exposed: Beheadings, Slavery, and the Hellish Reality of Radical Islam.
When asked whether ISIS was behind Sunday's attack, White House Press Secretary Josh Earnest told reporters, "At this point, this is still under investigation by the FBI to determine any ties or affiliations these individuals may have had with ISIL or organizations around the world."
But ISIS has already claimed responsibility for the actions of the two gunmen in Garland, who were shot dead after trying to storm a Muhammad Cartoon Exhibit. In a Tuesday radio broadcast, Islamic State leaders warned that more attacks are coming:
"We say to the defenders of the cross, the U.S., that future attacks are going to be harsher and worse. The Islamic State soldiers will inflict harm on you with the grace of God. The future is just around the corner."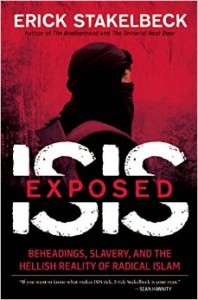 This is exactly what terrorism expert Erick Stakelbeck has been warning about – and he details that this is just the beginning.
"The ultimate aim here for ISIS is a jihadist guerilla war—carried out mainly by homegrown 'lone wolves'—that will turn America into a battlefield," said Stakelbeck, author of ISIS Exposed.
And yet the Obama administration is still astonishingly reluctant to admit that ISIS is a serious threat to the homeland, Stakelbeck added.
While ISIS was halfway around the world, stuck on the other side of an ocean, President Obama had an easier time downplaying the terror threat level. But the Garland attack proves that we must prepare ourselves for a growing wave of ISIS-terror here at home—a wave we are woefully unprepared for, warns Stakelbeck.
"It is no stretch to say that America is completely unprepared for a Westgate-style attack on a crowded suburban mall by a team of ISIS terrorists during the height of the Christmas shopping season," Stakelbeck said, referring to the deadly 2013 attack on the Westgate shopping mall in Nairobi.   "We need to prepare ourselves both mentally and physically, as I describe in ISIS Exposed, or we could easily see bedlam in American cities."