Member of the Week: Katie Engdahl Vernuccio (State Policy Network's Generation Liberty)
by Christopher N. Malagisi
Congratulations Katie on being our Conservative Book Club "Member of the Week!" Tell us a little about yourself and your work as a consultant.
As a consultant and owner of Vernuccio Strategies, LLC, I provide project management, special event, and external relations services for public policy and advocacy organizations. This gives me an opportunity to work with several non-profits that I admire, like the State Policy Network.
I currently manage SPN's Generation Liberty Fellowship program, which offers recent graduates and young professionals with diverse skill sets an opportunity to connect with hundreds of free-market leaders and innovators from across the country.
You had also worked as Director of Programs for Americans for Prosperity and as Director of External Relations at the Institute for Humane Studies.  Tell us a little bit about both organizations and the type of work you did there.

During more than six years at the Americans for Prosperity Foundation, I directed national events and tours, and coordinated logistics and outreach efforts for issue campaigns at the state and national level. Americans for Prosperity is the premier grassroots organization engaging and organizing activists to advance sound free-market policy solutions at all levels of government. It was truly a privilege to be a part of the organization's rapid growth from 5 state chapters in 2005 to a network of millions of citizen leaders advocating for freedom in 34 states.
The Institute for Humane Studies at George Mason University has played a critical role in developing and inspiring students and faculty interested in the ideas of liberty since 1961. As Director of External Relations, I oversaw outreach and communications strategy with partner organizations and alumni to connect them with resources and talent.  Both organizations provided great opportunities and experiences working with different audiences to advance liberty.
What got you interested in the work you do?
I was interested in public policy from a young age when I would practice cartwheels in the living room while my parents watched The McLaughlin Group and Washington Week in Review on PBS every Friday night (we didn't have cable). Current events and politics were a regular part of dinner conversations.
I wanted work on economic issues when I moved to DC after graduating from college, but wasn't specifically interested in policy research. Exposure to various roles in non-profits allowed me to learn how organizations operate and contribute my strengths to a mission I was deeply passionate about.
As someone who worked and lived in DC many years, you decided to move to Michigan.  What has it been like to transition from DC to the heartland?
Refreshing. I enjoyed living in the DC area and all that the city has to offer, but living outside of the beltway gives you a different perspective on how most Americans live and issues that impact them. It is easy to lose sight of that in DC where most residents are directly or indirectly employed by the government, and also contains seven of the ten wealthiest counties in the nation.
What books, authors, or conservative-themed books, influenced your political philosophy and outlook on life?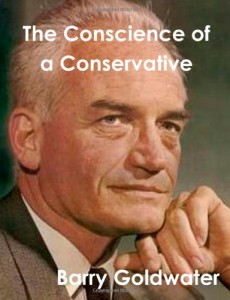 My political philosophy has certainly evolved over the years, but my first exposure and interest in pursuing a career in public policy started when I first read Barry Goldwater's The Conscience of a Conservative in high school. As an Arizona native, it appealed to my fiercely independent, "leave me alone" perspective on life and the government's role.
I was later exposed to authors and thinkers like Adam Smith, Frederic Bastiat, Milton Friedman, and F.A. Hayek who shaped my outlook and challenged some of my earlier beliefs.  More recently, I've enjoyed reading Dr. Arthur Brook's moral arguments for a free society, and look forward to his new book coming out this summer, The Conservative Heart.
Why did you join the Conservative Book Club? How is the user experience beneficial to you?

I joined the Conservative Book Club as a way to organize and track books suggested to me or those I've had on my bookshelf, but haven't had a chance to read yet. As I learn to navigate the site, I look forward to seeing all of the benefits it has to offer and sharing featured articles or books I've rated with other conservatives.