UPDATED! NYT Refuses To Put Ted Cruz On Their Bestseller List
by Bradley Matthews
Once again, the New York Times has put ideology before integrity. Despite Ted Cruz's new book selling over 11,000 copies in its first week,  the New York Times told HarperCollins that A Time for Truth wouldn't be included on their bestseller list, according to Politico.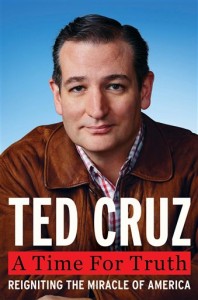 Of course, this being the New York Times, even basic math is subject to their brand of liberal politics. A spokesperson for the newspaper told Politico that "We have uniform standards that we apply to our best seller list, which includes an analysis of book sales that goes beyond simply the number of books sold."
They later elaborated in an email that "In the case of this book, the overwhelming preponderance of evidence was that sales were limited to strategic bulk purchases." Predictably, the paper did not provide this so-called evidence to Politico. After all, who would doubt the neutrality and veracity of the vaunted New York Times?
Other lists, however, are giving A Time for Truth the respect it has earned. Politico notes that it has hit #4 at the Wall Street Journal, Publisher's Weekly, and the Bookscan list — and that it has reached #1 on our own Conservative Bestseller List.
UPDATE:
Both Harper-Collins and Amazon have disputed claims by the New York Times that sales of A Time for Truth  were inflated by bulk sales. Harper-Collins, which published the book, told Politico that "HarperCollins Publishers has investigated the sales pattern for Ted Cruz's book 'A Time For Truth' and has found no evidence of bulk orders or sales through any retailer or organization." Amazon said that "As of yesterday, 'A Time for Truth' was the number 13 best-selling book, and there is no evidence of unusual bulk purchase activity in our sales data."
The New York Times, however, continues to stand by their editorial decision, saying "The notion that we would manipulate the best-seller list to exclude books for political reasons is simply ludicrous."
Comments
---

Josephine

I thought the NYT was non-patrician what is wrong with putting Ted Cruz on the bestseller list what is the NYT afraid of a backlash. Come on let's be grown ups and stop being so childish.

April 19, 2016,7:21 pm