Member of the Week: Ashley Dobson (Editor, Red Alert Politics)
by Christopher N. Malagisi
Congratulations Ashley on being our Conservative Book Club "Member of the Week!" Tell us a little about yourself and the work you do as Editor of Red Alert Politics.
I am a proud Texan and a graduate of Southern Methodist University. Before coming to Red Alert Politics, I worked at traditional newspapers across the South, including the Dallas Morning News, the American Press in Lake Charles, La., and the StarNews in Wilmington, N.C. It was always my goal to work in D.C. and I feel so lucky to be able to do that at Red Alert.
Red Alert Politics is a sister publication to The Weekly Standard and the Washington Examiner that focuses on Millennials, which we define as 18- to 30-year-olds. We look at the news of the day and pull out what will be most interesting and relevant to young people. We write primarily about higher education, gun rights, immigration, and economics, as well as "Politainment," all from the conservative perspective.
What got you interested in the work you do?

I've wanted to be a journalist, but it was my time in D.C. with the National Journalism Center that made me look into the conservative journalism realm. I was a summer intern in 2011, right as the 2012 election was starting to heat up and I was hooked. It's great to be able to make a difference and get to write on a daily basis.
Plus, I've always felt that conservative journalism is the more honest field. Everyone knows that the mainstream media is made up of liberals, but they don't label themselves as such. We don't hide our leanings.
What's an average day like for you?  And what are the 30 Under 30 Awards that Red Alert Politics organizes each year?
The greatest thing about being in political journalism is that there is no average day. It's what drew me to this field in the first place. But the common elements that are a part of my everyday are coffee (Starbucks blonde roast is preferred), Pure Barre workout class, a walk with Lizzie, my Westie, a ton of writing and editing, and spending way more time on Facebook and Twitter than I should.
The 30 Under 30 Awards just wrapped up for this year, but the nomination process for next year feels like it is just around the corner. This is an annual list we put out that highlights young, right-of-center people who are making a difference on their campuses and in their communities. Some of the people we honor on the list are names that people have heard before, but we also try to honor young people that do a lot of behind-the-scenes work as well.
I am incredibly proud of this year's diverse list, which includes everyone from journalists and YouTube sensations, to a young PR executive in Texas who tries to arrange community meetings on controversial topics so she can get the word out about her views. Her forum on immigration grew so contentious that she even received death threats.

In 2008 and 2012, the Democrats overwhelmingly beat the Republicans when it came to the youth vote.  As someone who deals day in and day out with reaching out to younger voters, what do you think the Republican Party should do to reach out to Millennials? 
I think the most important thing we can do is to focus on the issues that unite us, rather than divide us. Every study shows that Millennials are most concerned about the economy and jobs, but no candidate addresses those issues for youth. Hate it or love it, but there are social issues that the Republican Party has lost the majority of Millennials on. Continuing to harp on those only helps the Left portray the GOP as the party of the past.
Millennials are also looking for a fresh voice to be excited about. The reason Barack Obama was able to do so well in 2008 and 2012 was because he inspired young people and the GOP needs to be able to capture that same sentiment. This 2016 field is large enough that surely there has got to be at least one candidate able to pull that off.
What books, authors, or conservative-themed books, influenced your political philosophy and outlook on life?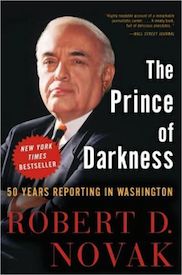 I would have to say The Prince of Darkness by Robert Novak. A controversial figure in the conservative sphere, it was a fascinating look at Beltway journalism. I was in college and studying journalism when I first picked it up and it confirmed my decision to work in Washington D.C. journalism.
Novak is also the author of one of my favorite quotes, "Always love your country but never trust your government." This is something I think all people, but especially journalists, would be well-served to remember.
Why did you join the Conservative Book Club? How is the user experience beneficial to you? 
Since I was a little girl, you would be hard-pressed to find me without a book in my hand and since I started taking the oh-so-glorious metro every day in D.C., I find that I get more reading done than ever. CBC has been a great way for me to discover books that I wouldn't have on my own and it's been a way for me to discover old favorites through other featured members.