Who Wore It Better? Donald Trump's Man Bun or Ben Carson's Afro?
by Greg Dallas
Donald Trump may currently be leading Ben Carson in the polls, but when it comes to hair, the contest is still up in the air. These front runners are sporting some of the greatest hair on a U.S. president since Chester Arthur's mutton chops.
Does Trump's funny (and Photoshopped) man bun or Ben Carson's retro afro look better? Let us know on our Facebook page.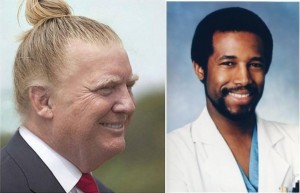 Comments
---

jenniferbrownz

Dr Carson, your smile and Afro gets my vote! Fascinating, Bertie 😉Orlando
KissManga reader for reading manga.

November 30, 2017,11:00 pm

---

Ned

Trump still has m,y vote and total support regardless of how ridiculous you want to make him look. What I could like to see is TRUMP as President and Carson as his VP. I could care less about idiotic hairdos. What yo should have done is presented a YOUNGER picture of TRUMP next to Dr.Carson's picture. Both were attractive men when younger.

October 28, 2015,1:47 am

---

Ned

Gee is there some BIAS here?
Trump would NEVER, EVER be a "girly boy".
When you put up false choices like this it hurts your credibility.
You could make Carson look ridiculous too … but chose not to…..

October 28, 2015,1:45 am

---

Bertha

Dr Carson, your smile and Afro gets my vote! Fascinating, Bertie 😉Orlando

October 26, 2015,12:31 am

---

Bertha

Dr Carson, I vote for your afro☺️ Bertie, Orlando

October 26, 2015,12:28 am

---

Mary Bockmon

Ben Carson's retro afro looks better.

October 15, 2015,9:34 pm