Member of the Week: Shoshana Weissmann (Web Producer, The Weekly Standard)
by Christopher N. Malagisi
Shoshana Weissmann is our featured CBC Member of the Week!  She is currently the Web Producer at The Weekly Standard, Co-Founder of Network Red, and graduated from George Washington University.
Congratulations Shoshana on being our Conservative Book Club "Member of the Week!" Tell us a little about yourself and the work you do as Web Producer at The Weekly Standard?
Thank you so much for choosing me! I love the Conservative Book Club!
In short, I'm obsessed with politics and get to do what I love. My career began in local politics in New York. When I graduated high school, I moved to D.C. for college. I've been here four years now and have been having a lot of fun working here.
I manage social media for The Weekly Standard. It's the best job—I work with the nicest, most thoughtful and open-minded people, and I'm able to do everything I love. I test out new social media strategies, launch new social platforms, make gifs/vines/videos/memes/graphics, write for the blog, and more. I've read TWS for about a decade, and I would have never thought I'd have an opportunity like this.
You also are the Founder of Network Red.  What is Network Red and how is helping young conservatives?  

My friend Elie Litvin and I founded it after the 2012 election. We list hundreds of right-of-center jobs, internships, D.C.-area events, and more. It began when Elie and I noticed a big gap between talent and opportunities. People didn't know where to find Republican, conservative, or libertarian jobs/internships, and employers had trouble finding talent. We're trying to bridge that. The best part is hearing from people who found their job or internship through us. It's really exciting to know we help people!
What got you interested in politics, and what drives you to succeed?
I think it's always been in me. I loved debating people when I was a toddler, I became Republican when I was eight years old, and became involved in politics when I was 14. Now, I'm just really excited by good ideas.
There are innumerable scholars who propose the most incredible policy solutions that would profoundly impact people's lives. While policy and its relation to people is what I love most, I realize good ideas alone aren't enough. They need to be thoroughly considered and debated. Politicians who can actualize them need to embrace them. Those politicians need to be elected and reelected. Thought leaders, the media, and other players need to thoroughly consider and vet those candidates and their ideas. I love the whole process. And I love communicating ideas and news to people on social media.
What books, authors, or conservative-themed books, influenced your political philosophy and outlook on life? 
The top one is Restoring the Lost Constitution: The Presumption of Liberty, by Randy Barnett.
I attended the 2012 Federalist Society Lawyers Convention with the hope of learning more about the Constitution. Constitutional law seemed so incoherent and arbitrary to me, until then. When I heard Randy speak about judicial engagement, it all made sense. I've since read his book twice, and intend to at least once more.
His philosophies and view of the judiciary totally changed my mindset and motivations with regard to policy. Since reading his book and other related works by him and other scholars, I've come to consciously put the Constitution first when considering any policy proposal—not just assume policy I like would be constitutional, or accept contortions of the Constitution that could be used to justify unconstitutional policies.
If we stop putting the Constitution first, it will be rendered meaningless. Then, what do we have to protect us from government?
Tell us a little more about yourself!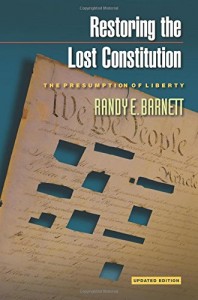 Favorite Movie: Arsenic and Old Lace
Favorite TV Show: South Park
Favorite Food: Fried zucchini
Favorite Drink: Unhealthy amounts of coffee
Favorite Band: Roxy Music
Favorite 2016 Presidential Candidate: Rand Paul
Where do you get your news from primarily? Twitter
If you could meet any person, dead or alive, who would it be? It's a tie – John Locke or James Madison. I would LOVE to ask them a ton of questions.
What do you do for fun? Hiking, sewing, dying my hair fun colors, cooking
Why did you join the Conservative Book Club?  How is the user experience beneficial to you? 
I'm always looking for new books to read… even though my reading list is already pretty daunting! (I'm a slow reader.) It's nice to have one hub for so many books I hope to read! I also believe that we're all wrong in some of our ideas—nobody's perfect. I love browsing books on Conservative Book Club and looking for something that challenges what I think. It's also really cool to have the interviews with authors all in one place!
Check out our other CBC Members of the Week here!