Member of the Week – Heather Pfitzenmaier (Dir. of Youth Leadership Program, The Heritage Foundation
by Christopher N. Malagisi
Every Thursday, CBC will highlight a Conservative Book Club "Member of the Week" who's doing great things in the conservative movement at home or in our nation's capitol.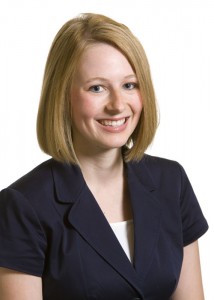 Name: Heather Pfitzenmaier
Organization: The Heritage Foundation
Originally From: Livonia, MI
Congratulations Heather on being CBC's "Member of the Week!" Tell us a little about yourself and the work you do at The Heritage Foundation – the country's largest conservative think tank.
In my role as Director of the Young Leaders Program at The Heritage Foundation, I oversee Heritage's efforts to reach out and promote our mission to the next generation of Americans.  As an alum of Heritage's intern program, I joined Heritage in 2007 as our Intern Coordinator and have been blessed to work with the Young Leaders Program ever since. Every year, we welcome nearly 200 students in our premier intern program, and I run the various components from recruitment to onboarding to programming to alumni relations.  I also run our campus outreach and youth outreach programs.
One of my favorite parts of my job is working with all of the coalitions and other groups in the movement doing wonderful things to connect with young Americans with our conservative principles.
200 students a year?  That amazing!  What got you interested in the work you do?
As a student at the University of Michigan studying English and Political Science, I experienced the dialogue on campus both in the classroom and in the broader campus community.  Overall, I felt there was a lack of exposure to serious conservative political thought…and as a result, I saw how many of my peers identified with principles and policies that didn't really align with their values. I wanted to come to DC and make a difference to connect with and educate youth on conservative principles and policies.
What books, authors, or conservative-themed books, influenced your political philosophy and outlook on life?
Becky Norton Dunlop, my boss at Heritage and the head of our External Relations team always says, "Know what you believe and why you believe it". This sums up why reading the classics and new releases are so important.  From C.S. Lewis's Chronicles of Narnia: The Lion, The Witch, and The Wardrobe to Milton Freedom's Free to Choose, these books shaped and honed my political philosophy.
With each intern class, we make sure to grow their libraries.  During their first week, we give each intern a copy of The Law and The Road to Serfdom.  We give them many other books throughout the semester, so by the time they leave, they have a large pile of books for them to read and have on their book shelves for a full conservative library!
That's definitely a good start to a conservative library.  Why did you join the Conservative Book Club?  How is the user experience beneficial to you?
The Conservative Book Club is a great, interactive experience, and I am still learning and seeing all the benefits it has to offer. I enjoy the Quote of the day, and how easy the site is to navigate and search.
Glad you like the quotes!  Any words of wisdom you'd like to share with your fellow members?
Take advantage of the incredible resources that Conservative Book Club offers…from the Conservative Classics to New Releases, it's a great way to remind yourself to read that classic work or to pick up a newly released book.  It's also a growing community, so it's a helpful way to read other like-minded individuals' reviews and their recommendations.  You'll also stumble upon books and authors you haven't heard of, which is a great way to read something you might never otherwise pick up.  Become a member, and enjoy the experience and resources!
Thank you Heather!  Keep up the great work at Heritage.