Member of the Week: Raffi Williams (Deputy Press Secretary, RNC)
by Christopher N. Malagisi
Congratulations Raffi on being our Conservative Book Club "Member of the Week!" Tell us a little about yourself and the work you do as Deputy Press Secretary at the Republican National Committee (RNC).  
Well first, thank you for the honor.  My role at the RNC is to help deliver the Republican message to young voters.  I also work with local press in the Midwest and Northeast to make sure that the conservative side of the issues is fairly presented.  Before my current role, I handled conservative media for the Committee.
What got you interested in the work you do?
Politics has always been a part of my life, ever since I can remember my family has always talked about politics at the dinner table. So when I graduated college and moved back to DC, I was drawn to politics and every day since I have been glad to be involved and to be able to do what I love.
You often hear that Millennials are destined to be life-long liberals as they've voted for Obama twice overwhelmingly in 2008 and 2012.  Are future generations doomed to liberalism, or are conservatives gaining ground with the youth vote?
Conservatives are making great gains with Millennials. They are drawn to our diverse and youthful candidates.  They are drawn to fiscal conservatism and that showed last cycle when we won 13 percent more of the youth vote than the last time the '14 Democrat senators were on the ballot six years prior. In places like Alaska and Arkansas, we won the youth vote outright and in almost every other state we made large gains. So, I believe the future of youth and conservatism is very bright.
You and your father, Juan Williams, the Fox News Democrat contributor and co-host of The Five, were interviewed on Fox News together last year.  We have to ask, do you ever talk politics at the dinner table?  I can imagine you might have some spirited debates!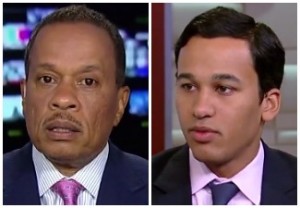 Yes, we talk politics all the time. It would be impossible to avoid it given what we both do.  We have great debates over the issues of the day, and I must admit sometimes he beats me. But being a part of the Conservative Book Club helps tremendously. It allows me to push back against some of his rhetoric and gives me better intellectual grounding.  I really enjoying debating him because it pushes me to better articulate my positions.
What books, authors, or conservative-themed books, influenced your political philosophy and outlook on life?
I must say that, for me, the two writings that first come to mind are de Tocqueville's Democracy in America and The Federalist Papers. America is a great experiment in democracy and I believe that we should constantly be experimenting and learning how we can be better. That is why I believe it is so important to continually be learning; we all should strive to experiment to make ourselves better.
Why did you join the Conservative Book Club? How is the user experience beneficial to you?
I joined the book club because I found I was haphazardly picking up books to read before and wanted more direction. The book club provides that direction and means that I will never have to guess about what to read next. It also means that whatever I read will make me smarter.  I believe that if we stop learning, we stop living.