CBC's Top 7 Republican Debate Awards
by Christopher N. Malagisi
Last night's debate was one of the most fun and interesting to watch as the GOP candidates banded together to call out the liberal moderators and they're snarky questions.  Sen. Ted Cruz led the charge by comparing the "cage match" questions in the GOP debate last night to the fawning debate questions the Democrats received.
Below are our highlights and superlative awards from last evening's debate.  Let us know what you think by commenting below, or checking out our 2016 Election Central coverage!
Winner of the Night: Tied – Ted Cruz & Marco Rubio
Both had superior debate performances last evening playing to their strengths and raison d'etre for running.  Cruz had the moment of the night when he called out the liberal moderators and their snarky questions.  But he also reminded voters he was the outside candidate with the resume to back it up, taking on not only the Democrats but the congressional Republican leadership as well.
Rubio had another consistent debate performance defending his record and responding to Jeb Bush's voting record attack.  It almost seemed like Rubio was waiting for Jeb to go on the attack and had a powerful rebuke ready to go.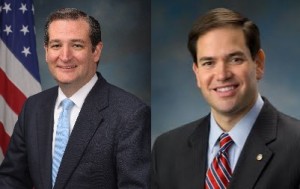 Biggest Loser of the Night: Mainstream Media
In one of the more deplorable and visceral examples of liberal media bias, all three debate moderators – John Harwood, Becky Quick, and Carl Quintanilla,  could barely conceal their distaste of the Republican field.  Their questions were an attempt to initiate candidate cannibalization and their fact-checking was some of the worst on record.
Ted Cruz, Marco Rubio, Donald Trump, and Chris Christie all called them out on this several times throughout the debate.  When will the Republicans finally realize that debate moderators for a primary should not be those who hold such vitriol for the candidates they are moderating?

Best Media Bashing Award: Ted Cruz
Ted Cruz stole the show last night when he called out the CNBC moderators and their questions as divisive and prohibitive to discussing substantive policy differences.  Cruz called out each of the candidates who had unfair questions thrown their way and was easily the biggest applause line of the night.
"Bushwacked" Award: Marco Rubio
The beginning of Jeb Bush's campaign may've been last evening as he criticized Marco Rubio of missing votes.  Ahead of the debate, it was rumored that Bush would make a play against Rubio and Rubio was prepared with a response that knocked the socks off of most observers and may've propelled Rubio as a leading contender.
Best Breakout Performance: Chris Christie
Chris Christie might've breathed some life into his presidential campaign last night by being forceful, funny, and appealing to populist sentiments and national security voters.  In particular, he shined after calling out the liberal moderators' question to Jeb Bush about Fantast Football.  This is the Christie we remember from early on in his gubernatorial career.
Best Zinger of the Night: Ted Cruz
While Cruz is most likely to be remembered for his powerful retort of the litany of biased questions tossed at GOP candidates, his line about the Democrat debate was a perfect allegory when he said the Democrat debate was really a debate between the Bolsheviks and Mensheviks!
Best Takedown Award: Donald Trump
Coming into last night's debate, Gov. John Kasich was on life support.  Having given a speech the day prior calling policies of his rivals "insane," Kasich decided to double down and go after Trump and Carson.  Trump responded in pure Trump fashion and ripped his opponent to shreds as he's done to Rick Perry, Scott Walker, Lindsey Graham, and Rand Paul previously – all out of the race or are barely showing up in national polls.
What do you think?  Comment below and let us know!  For more info on the GOP presidential candidates and their books, check out our exclusive 2016 Election Central.  And see our exclusive author interview with Ted Cruz!
Comments
---

Beverly Alcock

I am a big fan of your site.Thank you for just useful article. I agree that reader should want to know what will happen in the book. The job of the writer is to feed reader's interest. Keep it up.
. Visit :http://www.essayscouncil.com

May 2, 2017,12:09 am