Member of the Week: Lauren Bouton (Alumni Relations Specialist, Koch Institute)
by Christopher N. Malagisi
Congratulations Lauren on being our Conservative Book Club "Member of the Week!" Tell us a little about yourself and the work you do as a Recruiter at the Charles Koch Institute, and what's it like working for "The Koch Brothers"?
Thank you very much, Chris! I am a recruiter for the educational programs that the Charles Koch Institute offers, which means that I'm in charge of finding people who would like to participate in jobs, internships, and career development opportunities we provide. That's a complicated way of saying that I travel around both D.C. and the country finding people interested in working with jobs in our network. It's been fantastic so far!
As for what it's like working for the "Koch Brothers." That is a common misconception that people have about my job, so I'm glad that you asked! The Charles Koch Institute is just one brother (Charles) and we work at his educational non-profit which focuses on training the future leaders of our network! Not much politics involved in what I do, to be honest.
Where are you from originally and how did you get interested in the work you do?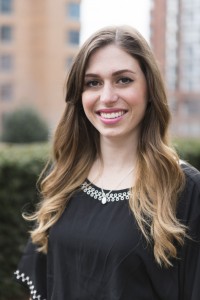 I grew up on a small ranch in Southern Arizona very close to the border with Mexico. The nearest town is called Sierra Vista, which is about two hours south of Tucson.
In college I had to decide what I was majoring in so I tried a few Political Science classes, which I loved. From there, I decided to join the College Republicans at the University of Arizona where I became secretary and eventually president. I loved it so much that I decided to work in the political sphere from then on. After graduation, I applied for an internship at the Cato institute which kicked off my career in D.C. where I've been ever since.
You've also worked at the influential Franklin Center for Government & Public Integrity.  Tell us a little about your work there.
I worked at the Franklin Center for a little over a year and a half. It was my first job in D.C. and absolutely invaluable experience! I was the Online Outreach Manager there which meant that I was responsible for local outreach as well as social media outreach. Since it was a smaller organization, I was able to do a bit of everything including conference planning and some project management as well. This really helped me decide what I like in a job and what I want to do in the future!
What books, authors, or conservative-themed books, influenced your political philosophy and outlook on life?
Though this is a stereotypical libertarian's answer, I really started thinking about the role of government in our lives after reading Atlas Shrugged. To this day it is still one of my favorite books. I would also include Brave New World and Stranger in a Strange Land as I'm a fan of fiction.
Tell us a little more about yourself:
Favorite Movie: Oh gosh, is it okay not to have one? My favorite book would be Gone With the Wind though!
Favorite TV Show: Definitely South Park!
Favorite Food: Right now it's BBQ Brisket. Though this is in close competition with my Italian grandmother's lasagna. Mmmm!
Favorite Drink: That would be a dirty vodka martini. Up, of course.
Favorite Band: I'm a country girl – Dwight Yoakam or George Strait.
Political Hero: I think that Margaret Thatcher is a really inspiring lady. Also, I find Richard Nixon fascinating, though I'm not sure he would be my hero!
If you could meet any person, dead or alive, who would it be? Taking this back to my South Park obsession, I would love to meet Trey Parker who is the co-creator of that show, as well as the co-writer of the Book of Mormon. I think he is brilliant and I love that he and Matt Stone don't seem to care what other people think of them. Or I would meet Richard Nixon? Again, fascinating.
What do you do for fun? I love hiking, drawing, reading, horseback riding (when I can) and getting out of D.C. for some nature time when possible.
Favorite DC-area Restaurant? Columbia Firehouse in Alexandria, VA.
One Thing No One Knows About You: I grew up on a ranch without television so I have no pop culture references before 2004! This also means that I never got into the habit of watching movies.
Why did you join the Conservative Book Club? How is the user experience beneficial to you? 
Since I grew up without television, reading has always been very important to me, not only as a hobby but also as a means for me to learn and advance my education. I really like that the Conservative Book Club has a wide range of books they feature, making it easy to choose from the latest books that many people will be talking about. Even if you don't agree with the ideas or authors, but especially if you do, this is still a valuable resource for people who love to read!